Hi, I'm David O'Keefe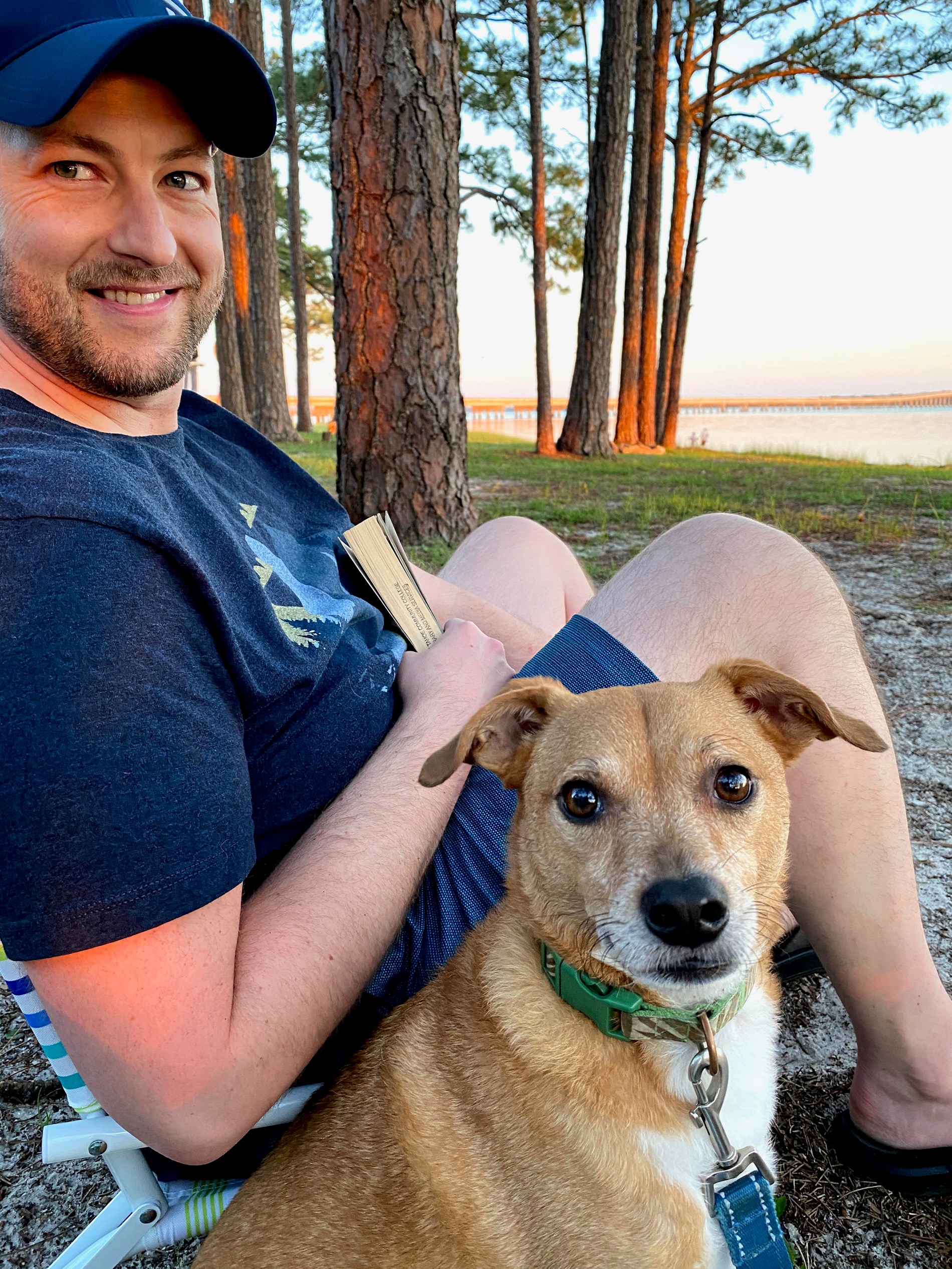 I grew up in Jacksonville and moved to Tallahassee to go to FSU eighteen years ago. I live with my wife, Brooke, and our four rescue pets in the Old Town Neighborhood of Tallahassee. We know how fortunate we are to call Tallahassee our home. I am also profoundly aware of how lucky I am to have stable financial security, but that was not always the case. When I was growing up, my Dad had a medical crisis, which started a spiral to medical debt, being out of work, payday loans, repossessions, and even bankruptcy. The devastating impact on our family led me to learn everything I could about money and financial matters. I started working part-time to pay for my school expenses and financially support my parents when they needed me. It felt crushing and hopeless to be under so much pressure as a kid, so I turned to school and my part-time jobs to develop confidence and pursue independence. Throughout high school and college, I took new part-time jobs with more and more responsibility that allowed me to continue to mature well beyond my age. I became a Certified Public Accountant and eventually served as Chief Financial Officer of WFSU. My parents' example of perseverance despite the impossible debt burden gave me the work ethic I have today.
I learned that money isn't everything, but not having enough can impact everything. Hard work and integrity are worth more than any amount of money. Like my parents, surprises from life can devastate anyone, no matter how prepared you think you are. My parents showed me that you do the right thing even when it's difficult because you can't regain your integrity once you lose it.
The other major challenge in my life was obesity and overeating. Overeating and weight were always a challenge for me. I had all but given up on the idea I could ever be a healthy weight. At this point, I had a promising career in public accounting and was getting on a stable financial footing. However, I was never happy and knew something was wrong. If I was getting all the professional and material successes of the good life, why was I so miserable? It took more courage than I thought possible to face the fact that I was over 300 lbs and no individual success was going to make me happy. Since facing that challenge, I have maintained a 100-pound weight loss for thirteen years.
The miraculous changes I have experienced have shaped my values, beliefs, and the person I am today. I had to change my focus to put service to others ahead of my desires to better myself. I had to become fully honest with myself and others in all matters. I had to experience the safety and comfort of being part of a community and relying on each other instead of relying only on myself. Nothing compares to the feeling of being useful to another person and being part of a community of people supporting each other. There are no perfect people, and everyone deserves dignity and respect.
As you get to know me, you will find I will always be honest with you and admit when I am wrong. I will always put everyday people before profits, big business, or personal gain. I will work harder than anyone else to improve the lives of everyone in our community, and I will leave no one out of being a part of our community. I will strive to always serve with integrity and pursue any solution to our community's problems.
Professional Biography: www.linkedin.com/in/dofortallahassee
Learn more: